Did I mention we moved last year?
Well, we did. That makes six times in eleven years.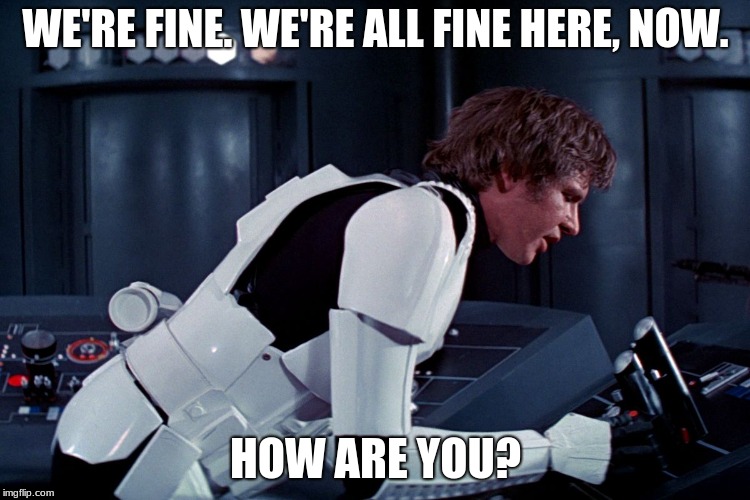 A work opportunity came up for Nemo that would allow us to move to his hometown, something we had been wanting to do basically since the day we walked down the aisle.
Specifically, it was a work-from-home type of work opportunity, so when we went house shopping we were on the lookout for homes with a quiet, secluded work area for him.
What we didn't account for is that this particular city has a CRAZY housing market, and any way we sliced it we would be paying more money for less house than we had in Wisconsin.
Our last home had four bedrooms upstairs and had a fifth bedroom/office on the first floor where both Nemo and I kept our computers. The house we ended up buying here(which I actually do like more, despite having less space) had three bedrooms and zero offices. Which was a problem.
Luckily, the previous
previous
owner had put an addition on the back of the house which made room for a large en-suite bathroom in the master bedroom, and below that, an extension of the walk-out basement that was sort of offset from the family room.
It was the perfect place for an office. If only it had a fourth wall and door that a poor work-from-home dad could shut to keep the masses of children out!
Here is a picture of that space from the listing:
The plan was to add a wall on the far side of the sliding door, so that the rest of the family would still have access to the yard, like so:
Alas, it was not so easy as saying, "Bam! Office!"
Nemo was working from a spare room at his parents' house since he didn't yet have a space to work at home, so I was eager to get the project completed so I could pester Nemo anytime I wanted during the day. I got to work planning the layout of the soon-to-be room, which was kind of complicated because we wanted to fit a closet, a large desk, and a sleeper sofa all in one fairly small space. Here's what I came up with:
Then, one fine day almost a year ago, the permits came in and we (and when I say we, I mean Nemo and his dad) got to work. Stay tuned to see how it turned out!